As the world continues to grapple with the ramifications of the pandemic, businesses need all the help that they can get — and so do job seekers.
Securing the ideal job was challenging enough even before the virus forced its way into our public consciousness. In the wake of the pandemic, fresh graduates, seasoned executives, contractors and temps alike must engage outside, external assistance in order to reach the next rung of their career ladder, especially in the weeks and months ahead. Professional recruiters are often a phone call away to do just that.
The benefits of working with professional recruiters were known even before the new reality set in. Aside from salary negotiations and providing a clear path to a hiring manager's inbox, a recruiter is also the person who knows their clients best. This means that they will be able to give you insights into exactly what the company is looking for — invaluable information, considering our current economic climate.
RELATED: 5 clear signs a contracting career is for you
As businesses begin to hire for key roles as part of their post-COVID recovery plans, which includes hiring more specialised employees over those who are more generalist in their skill set, knowing exactly what they need and if you fit the bill can make all the difference in the world. This is especially true for contractors, temporary staff and specialists whose low barrier to entry and high-impact nature is indispensable.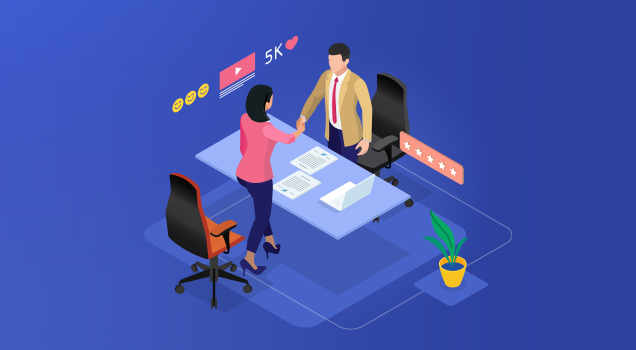 If they are experts in specific fields, if they can add value or if they can at least get you an interview, I would still recommend someone like that. Focus on their relevance to you.
Here's the tricky part: a quick Google search brings up a whole host of recruitment agencies. Where, then, do you start? If you have never worked with a recruitment agency before, how do you ensure that they will be able to serve your needs as a new or established contractor, temporary worker or specialist? What if your skill set is especially niche? Is this beneficial or detrimental? And ultimately, will the recruiter match you to the right company?
1. Check with your peers
Engaging a recruiter is a lengthy process, from the initial interviews to eventually connecting you with clients that are keen to hire. As a contractor, temp or specialist, the likelihood of you working with the same recruiter is even higher, since they are the one connecting you with companies over the course of your career. As such, having 'been there, done that' recommendations from friends and peers within the same industry does carry a lot of weight — and the science shows, too. According to Nielsen, 84% of their survey respondents trust the recommendations of friends and family, and the same applies to recruiters to work with.
With that said, Jon Goldstein, Regional Director at Michael Page Southeast Asia & India, still advises due diligence. "Oftentimes people go to a company because they've heard of a big name, or their friend recommended it. However, if you're an accountant and your friend is in sales, that's not necessarily a match," he warns. "So do your own homework, trust your own gut, and rely on what their market expertise is. Ask about their track record. Interview them a little bit."
2. Check the recruiter's industry expertise
There is no one-size-fits-all solution when it comes to recruitment. Instead, most individual recruiters will specialise in one or two sectors, with deep-seated knowledge and expertise in each one — but how do you know if they know what they are talking about?
One of the best places to seek out such information is LinkedIn. As much as the social media platform is a hunting ground for recruiters and hiring managers, it's equally a great way to find recruiters and see if they, and the agencies they represent, meet your needs. This is critical if you have a very niche skill (like a data scientist) or if you are an interim manager.
Start by looking for recruiters from specific recruitment agencies and observe the kind of jobs they have been posting. Ask yourself these questions:
Do they sound like the type of jobs that you are interested in?
Do they fall within the realm of your expertise?
Are they relevant jobs based on your seniority?
Does he or she work with contractors?
These are all tell-tale signs for whether an agency, or a specific recruiter from said agency, can connect you with your next client. "Chemistry is very important, but it doesn't necessarily have to be just that," Goldstein says, "If they are experts in specific fields, if they can add value or if they can at least get you an interview, I would still recommend someone like that. Focus on their relevance to you."
3. Check the recruiter's career movement
Speaking of tell-tale signs, you also want to see how established the agency is and how long the individual recruiter has been there. After all, like planting a tree, becoming a good recruiter takes a whole lot of time and effort before the specialties take root. That's why if you see a lot of movement throughout the recruiter's career, it could mean that they are eager to find the next hot area and are perhaps less concerned about building long-term relationships with candidates and clients alike. On the flip side, someone who's been within the same company or specialty sector would have developed a critical mass of contacts to help you in your search. A deeper, wider net is what you need here as a contractor, temp worker or specialist, and these are the recruiters you definitely want to reach out to.
The relationship is a two-way street. Don't expect your recruiter to do everything for you. They are going to expect you to come with good questions, what companies you are interested in, what jobs you are interested in.
4. Check for professionalism
The final step is really up to the relationship that you and your recruiter builds. A job interview is not a one-way street in that it is an opportunity for both parties — the interviewer and interviewee — to know each other. And the same applies to contractors and recruiters as well. The first meeting often forms the foundation of the working relationship that comes after. Whether you put your job search in the hands of the recruiter is completely up to you.
"[The relationship] is a two-way street," Goldstein explains. "Don't expect your recruiter to do everything for you. They are going to expect you to come with good questions, what companies you are interested in, what jobs you are interested in. Come with an open mind. Many candidates come and say 'I heard this about the firm' or 'I don't want to try this', so this just makes it harder and harder. You will be working as partners. When they see a motivated candidate who is sincere, it creates a whole new motivation."
Ultimately, as a contractor, temp or specialist, the number of contacts you amass is more important than anything else, so forming a partnership with an active recruiter makes it that much easier — it is a mutually beneficial relationship, after all. Aside from the skill sets that you have acquired over the years, having an active recruiter working alongside your specialist path is just another tool to add to the arsenal. "If you can get two or three recruitment consultants on your behalf and be your ambassador, that is going to work wonders for you," Goldstein says.
RELATED: Maximising your people-driven business recovery
Find a recruiter for your contracting gig
01 Turn to friends and colleagues for their first-hand experience
02 Focus on the recruiter's relevance to your plans
03 Target those with mass contacts in the market
04 Meet your recruiter halfway and keep an open mind
Join over 60,000 readers!
Receive free advice to help give you a competitive edge in your career.