The Philippines is a dynamic country with high potential, a talented and driven workforce and a growing economy - all reasons why Michael Page is opening its newest office here. From potential growth to existing opportunities, there's something about the Philippines that brought us here to stay.
Many companies already know the Philippines because of its huge BPO industry, which employs over a million people, but the country is so much more than that. Olly Riches, Board Director, Michael Page South East Asia explains, "While many companies already have back office operations in the Philippines, we want to build upon the enormous potential beyond that. It's well-known that some of the best talent leaves the Philippines. With the office opening, we aim to foster long term partnerships on the ground, and keep the best talent here to build on the local opportunities that exist."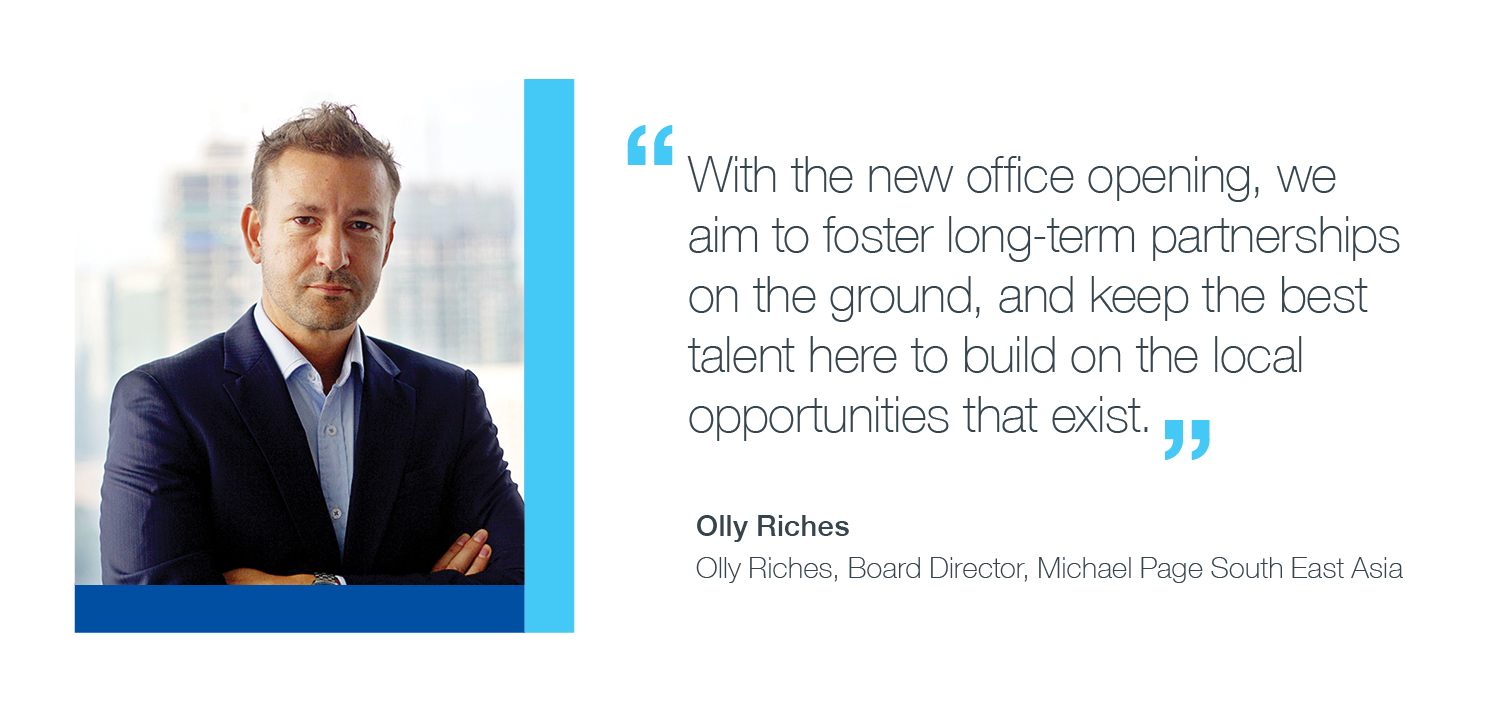 The Philippines is poised for success
One of the five high-growth regions in South East Asia, the Philippines has a dynamic economy. According to IMF estimates, in 2019, the GDP growth rate reached 5.9%.
In 2020, that growth has slowed down - COVID-19 and the stringent lockdown have had a real effect on the economy in the first half of the year. However, the Philippines has the ability to bounce back - it has a solid foundation rooted in an historically stable job market and a competitive workforce. In fact, this is one of the major reasons why the Philippines possesses such high prospects despite these setbacks - the people.
Workforce in the Philippines
Resilient and hardworking, the workforce in the Philippines is one of the biggest assets the country has. Among professionals in the workforce, there is a large population of bilingual English-speaking professionals and a large number of university graduates.
"There is interest in doing business in the Philippines due to the very strong talent here - many of them bilingual and university-educated. We produce a lot of technical experts, such as engineers and healthcare professionals, among other skilled professionals. As a result, more MNCs are being drawn to investments and local conglomerates are tapping into expansion opportunities within the country." says Carla Lastimosa, Director, Manufacturing & Supply Chain, HR & Legal, Michael Page.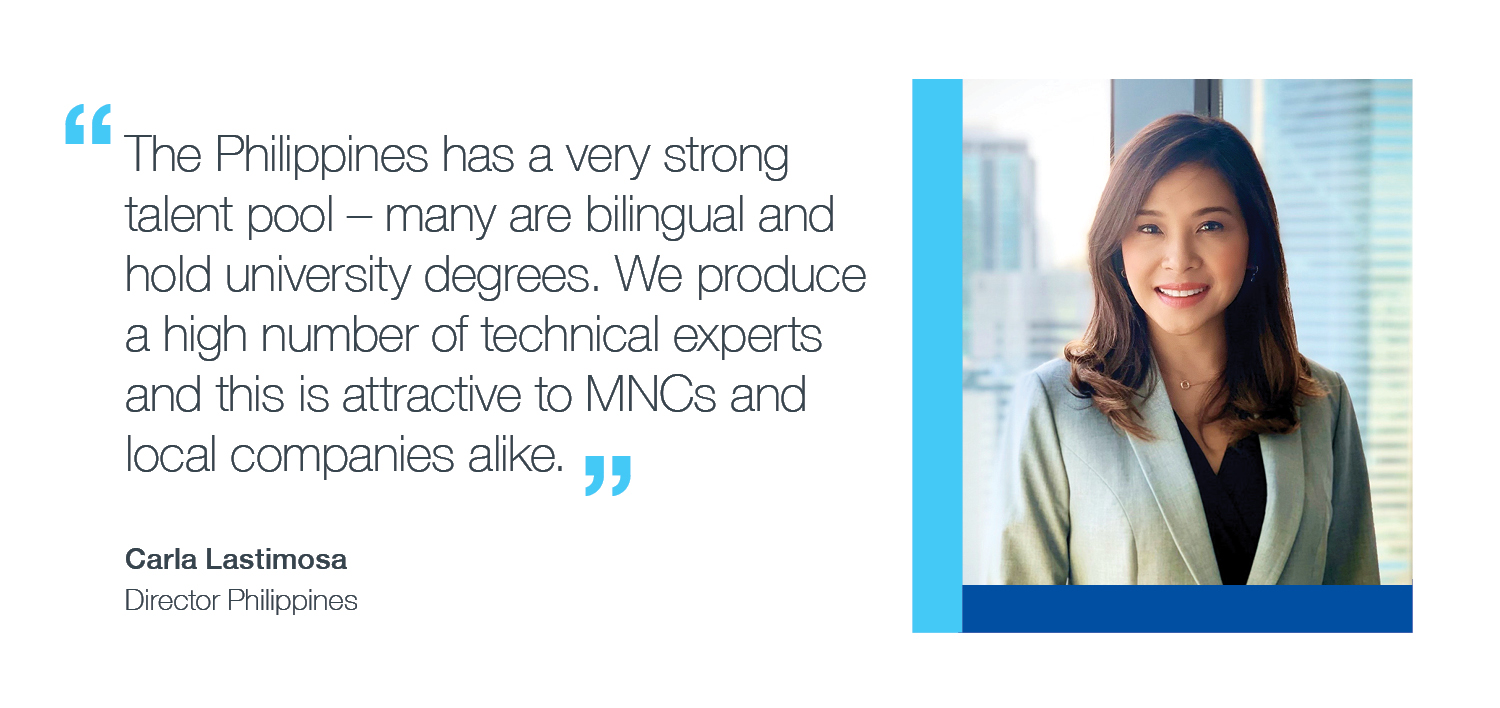 Partnering with HR to highlight opportunities
Additionally in the Philippines, there is huge potential within the human resources function to contribute more than HR traditionally has. Historically, the HR function in the Philippines has been more admin based, but there is an increasing need for it to be a strategic partner within business operations. "We feel passionate about elevating HR standards and disrupt thinking about how HR is perceived." Riches says.
Like many companies around the world, companies in the Philippines are investing more heavily in HR in response to the pandemic, as factors such as employee engagement and learning and development move front and centre. There is a high volume of turnover in many industries, across job levels and functions. "Michael Page has a good blueprint to help companies recruit and retain. We aim to introduce practices into the market to encourage companies to invest more heavily in HR, upskill HR functions and therefore improve factors such as employee retention and engagement. Part of our excitement lies in challenging the norm." Riches says.
Untapped potential
Looking at industries and functions that have high potential for growth in the Philippines in the next few years, it becomes even clearer why the economy is well-poised for recovery. Manufacturing, including supply chain and 3PL is a major growth area, and the consumer market, despite the lockdown and other challenges, has remained quite robust: traditional retail, consumer revenue, food and beverage and fast moving consumer goods. Both MNCs and local conglomerates are looking towards expansion and development in the years to come.
Potential within ecommerce and tech is high as well. With a young population learning to be entrepreneurs (average of 24.4 years old with high digital penetration) the technology and digital opportunities are endless. Within tech, opportunities lie within digital banks, fintech, Saas, and other disruptive software - and investors are ready, keeping a close eye on what's being produced.
Better in the Philippines
Keeping all these factors in mind, it becomes clear why "it's more fun in the Philippines" can extend to business as well. As for Michael Page, we are looking forward to ensuring the top talent in the Philippines finds a reason to stay where they are - and to being on the ground with them.
Contact us to learn more about Michael Page Philippines.
Join over 60,000 readers!
Receive free advice to help give you a competitive edge in your career.